Program Overview
---
The goal of the Electric Vehicle ("EV") Make-Ready Program ("EV Make-Ready Program") is to support the development of electric infrastructure and equipment necessary to accommodate an increased deployment of EVs within New York State by reducing the upfront costs of building charging stations for EVs. Through this EV Make-Ready Program, entities seeking to install or participate in the installation of Level 2 ("L2") and/or Direct Current Fast Charging ("DCFC") chargers can earn incentives that will offset a large portion of, or in some cases, all of the infrastructure costs associated with preparing a site for EV charger installation.
---
Program at a Glance
Supports CLCPA goals as well as New York State's zero-emission vehicle (ZEV) goal of deploying 850,000 electric vehicles across the state by 2025.
Total program budget is $701 million, $601 million allocated to support Make-Ready Programs by the New York Joint Utilities.
$206 million must directly benefit disadvantaged communities. Disadvantaged communities are defined as communities that bear burdens of negative public health effects, environmental pollution, impacts of climate change, and possess certain socioeconomic criteria, or comprise high concentrations of low- and moderate-income households.
What's Included
Take advantage of the make-ready incentives available through your utility to help install EV charging.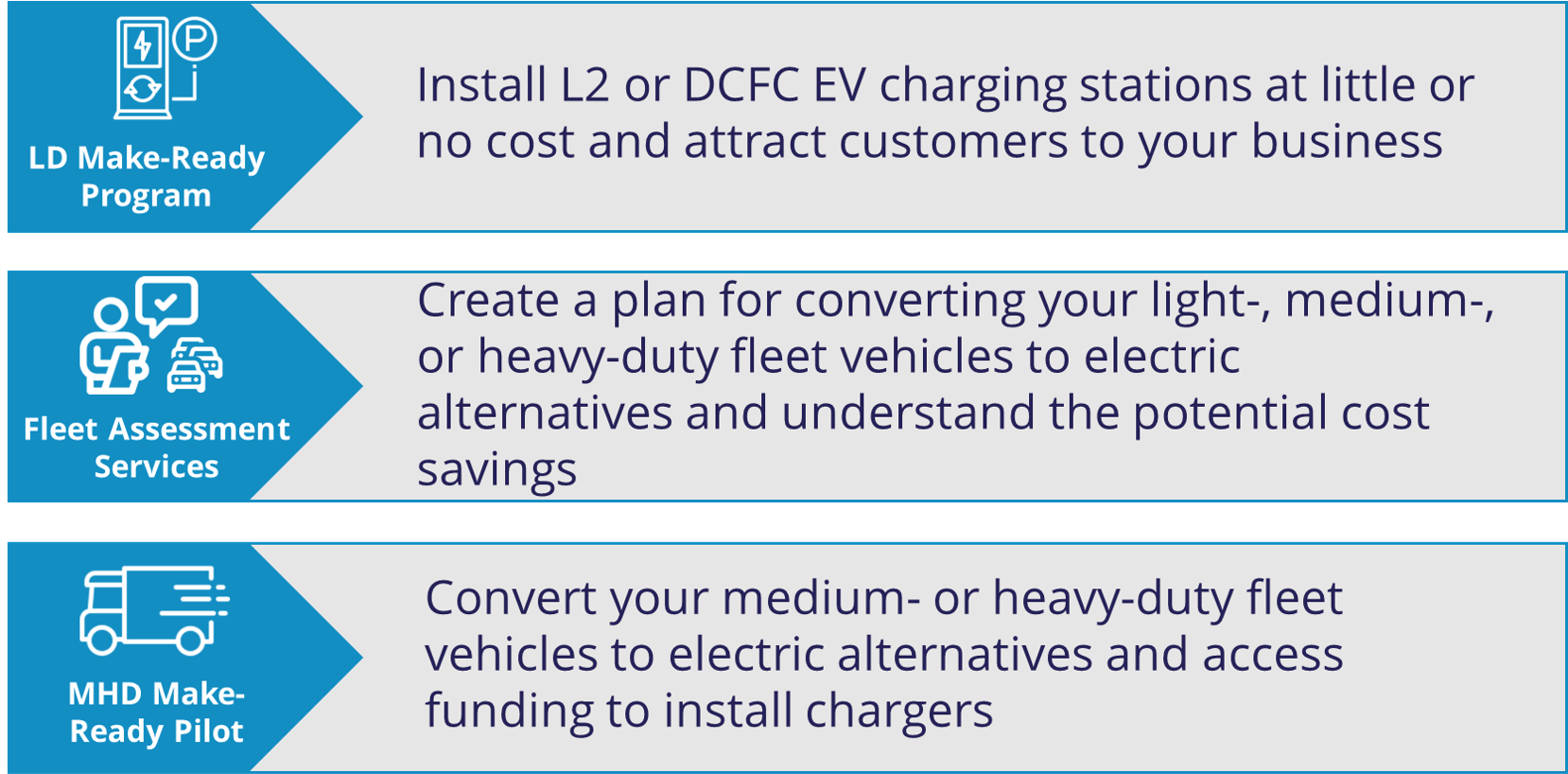 Light-Duty EV Make-Ready Program
Available Incentives
You may be eligible for up to 100% of the electric infrastructure costs associated with new non-residential EV charging stations. Working with your utility to install EV charging stations will also reduce your organization's time investment by providing a dedicated point of contact and streamlined, step-by-step experience installing your electric vehicle charging stations.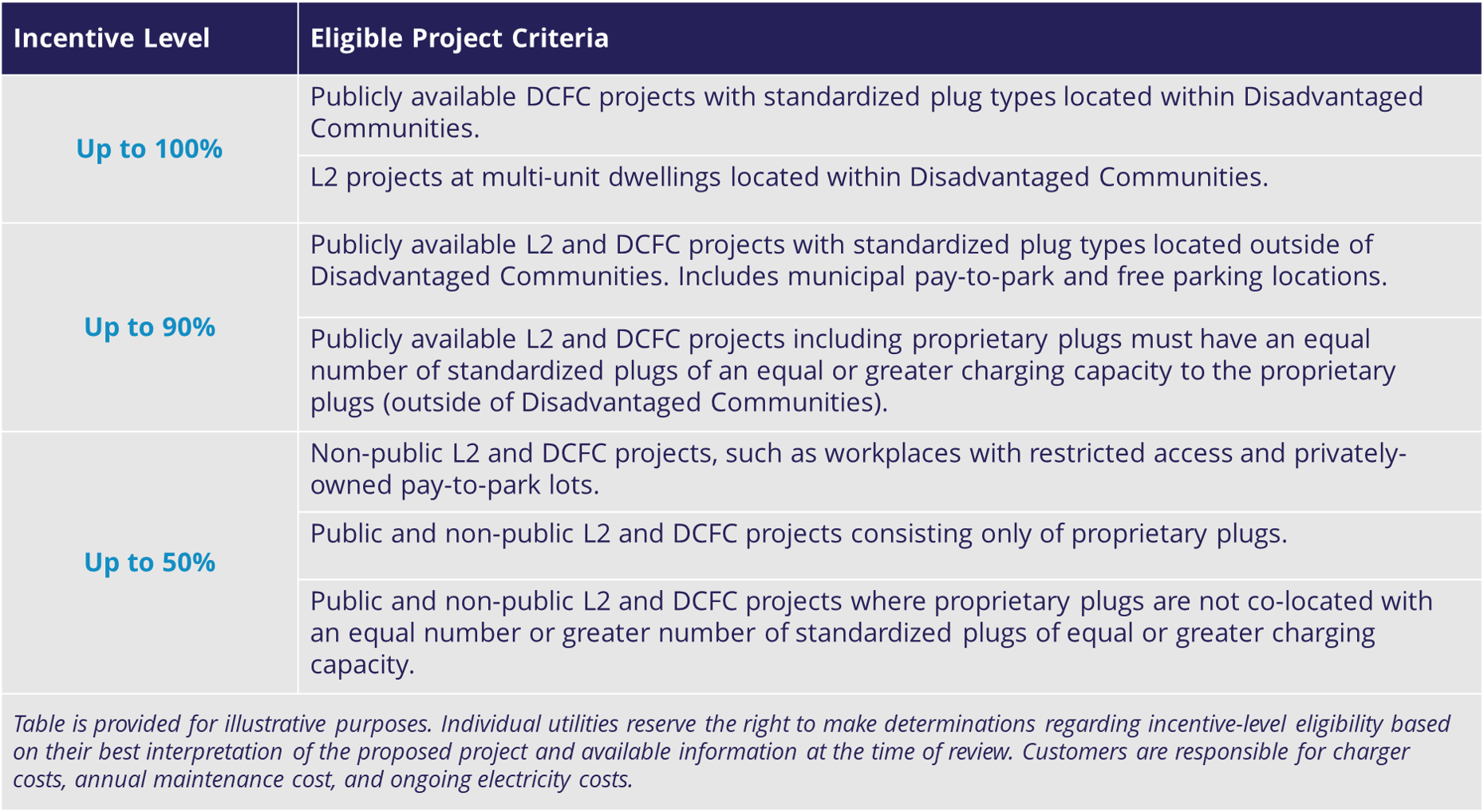 How to Participate
Your utility is here to help you make the switch to electric by helping bring down the cost of installing EV charging stations. Here's how it works: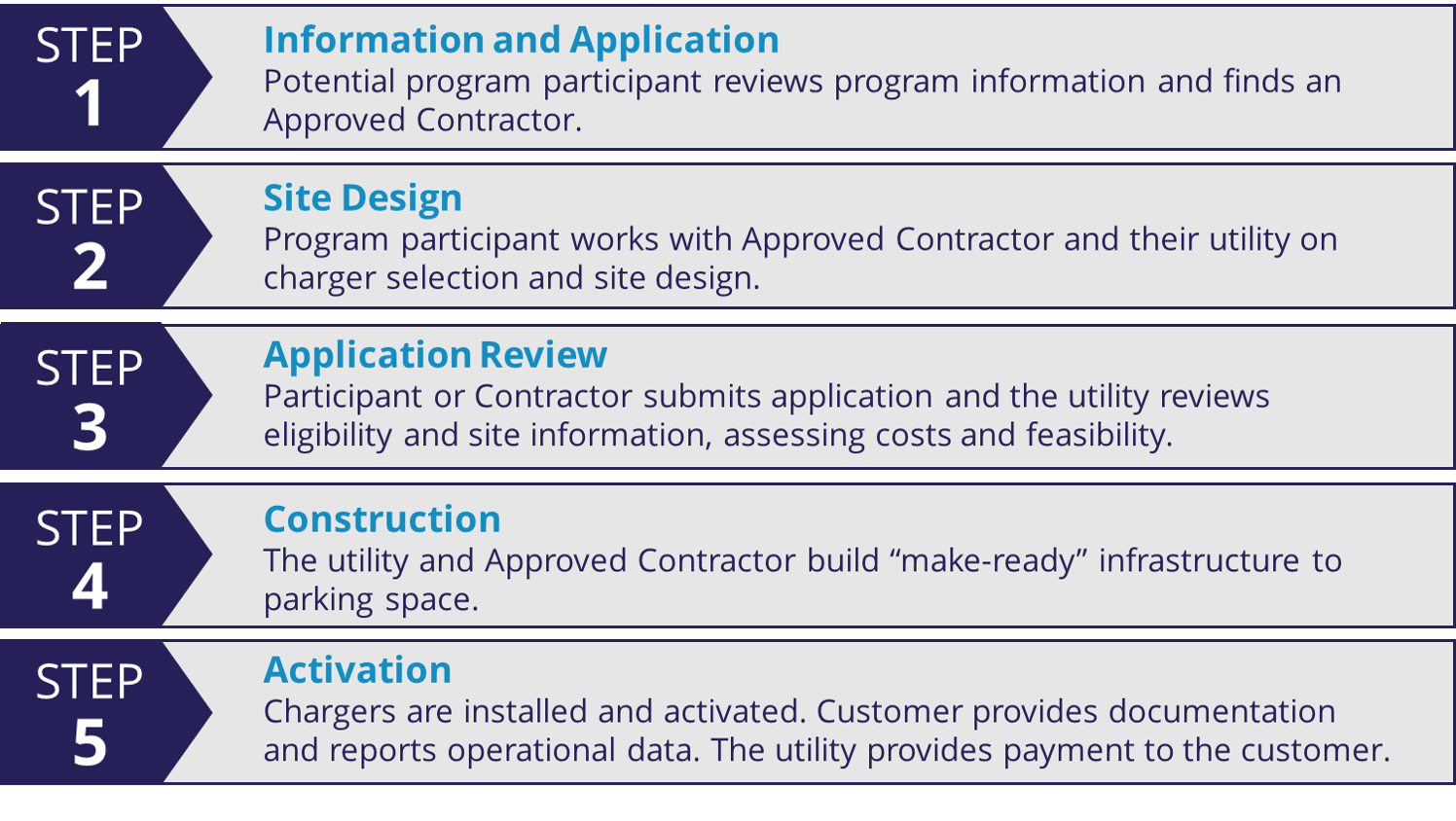 Get Started
Learn about the Program and determine your eligibility by reading the resources available on this website or contacting your utility below.
Connect with your utility, we can answer your questions and help you find an Approved Contractor and apply for the Program. Utility contact information is provided below.
Select an Approved Contractor who will partner with the customer to install the right EV solution on site. Approved Contractors can walk you through the details and the application process and complete construction.
Apply to become an Approved Contractor through the JU if you are an electrical contractor who is interested in installing EV charging stations under the Make-Ready Program.
Utility Resources
Below you can access each company's EV Make-Ready Program landing pages where customers can find more information and resources to apply for the MRP. If you have questions or need assistance with the MRP, please email your utility at the correct address below.
| Utility | Email | Website |
| --- | --- | --- |
| Central Hudson | | |
| Con Edison | | |
| National Grid | | |
| NYSEG | | |
| RG&E | | |
| Orange and Rockland | | |